Gaba is Japan's premier provider of one-to-one English instruction. Our Learning Studios set the standard by which English language learning is measured.
Numerous companies in Japan provide English conversation lessons. What makes Gaba unique is that all teaching is done one-to-one. This approach allows for customization of the lessons and ensures steady progress towards each client's English language goals.
Gaba's service is only as strong as the people providing it. What makes teaching in Japan with Gaba such a positive experience are the motivated clients, supportive staff and enthusiastic instructors.
Gaba is a business and as such, we are dedicated to ensuring the satisfaction of all our clients. Teaching as a service might be a foreign concept to some, but it is a well established practice in Japan.
Our People
Teaching is about communication and fostering understanding. Teaching English in Japan requires doing so across cultural boundaries. Therefore, success as a Gaba instructor requires strong people skills to bridge these divides. The excitement clients experience from learning something new is one of the biggest rewards of teaching with us. As their motivation increases, so does yours as the instructor.
For those who enjoy meeting new people, teaching with Gaba provides no shortage. There are the clients of course, but also the staff and other instructors. Gaba presents a wonderful opportunity to make friends and learn more about Japan, the world, and even the language you call your own. Believe it or not, there are equal numbers of discoveries awaiting both the teacher and student! Read on for more information on each of the clients, the instructors, and staff.

Clients
Roughly 16,000 clients study with Gaba. The majority are working professionals. There are also high school and university students, homemakers, and retirees. The Gaba Kids program is available at select studios for children between the ages of six and twelve.
Motives for studying are as varied as the clients themselves. The one constant: each and every client has chosen Gaba with the expectation that their lessons will be one-to-one and custom-tailored to their specific needs. Our most successful instructors are always aware of this.
"Business" is the most common motive for study. Many of our clients have direct need of English in their professions. Others aspire to positions which require the use of English. Furthermore, many Japanese employers require particular scores on the popular TOEIC and TOEFL tests for admission or advancement. Therefore, many college students should be considered business clients as well. Naturally, with so much riding on their English ability, business clients are often the most motivated and will have particularly high expectations of their instructor.
There are more casual clients as well. Homemakers and retirees frequently travel abroad or enjoy English language television programs, movies, and music. Learning English is a means to appreciate their pastimes more fully. Lively lessons with cultural content ("American" English versus "British" English, for example) are often popular!
The youngest of our clients – the Gaba Kids clients – are taught in the same one-to-one fashion as the adults. While it's often the parents that have the highest expectations, children are demanding in their own right with the need to hold their attention and encourage participation.

Instructors
Gaba instructors are multi-cultural and multi-talented, with representation from over 80 different nationalities and all walks of life. They are educators, business owners, scientists, architects, students, homemakers, writers, designers, musicians, and more. All possess a passion for teaching English. While Gaba instructors are not strictly employees of the company, each uniquely fits the work into their life in Japan.
Why are all these different people teaching in Japan with Gaba? The short answer: motivated students and the freedom to do just what they came to Japan for in the first place!
Japan attracts a variety of people for any number of reasons. Some of the most common are study (language, cultural activities, and martial arts), family, and adventure. Japan offers exciting options for fans of any sport or activity! Many instructors taught English prior to starting with Gaba and came to further their careers. Others are entirely new. Regardless, the majority will tell you that the flexible scheduling system combined with the one-to-one approach are the reasons they chose Gaba.
You will find video testimonials scattered throughout the site, where our Instructors provide their own take on life as a Gaba Instructor.

Staff
While not quite as diverse as the instructor ranks, Gaba's full-time staff hail from around the world and have a broad range of expertise. Of course, many are Japanese, particularly the frontline staff at the Learning Studios. These are the counselors and studio managers. Each client is assigned a counselor with whom they meet regularly to track their progress. The counselors are happy to discuss clients' requirements and share any new information that comes to light during consultation.
There is full-time staff on hand at the studios specifically to guide instructors. The Instructor Support Leaders and Managers can offer advice on topics relating to teaching, scheduling lessons, and adapting to life in Japan. Turn to them first for advice! All have been instructors with Gaba at one time or another.
Behind the scenes are staff working from headquarters to ensure all runs smoothly in this complex, multi-cultural business. Most of the Japanese staff previously worked as counselors and a good proportion of the foreign staff were instructors. After all, firsthand experience providing Gaba's core service – one-to-one English instruction – is all but essential to furthering the company's goals.
Our History
Gaba was founded in 1995 to challenge the norm of the day. English was being taught in group lessons using a formulaic, one-size-fits-all approach. Gaba's innovation: instruct clients one at a time with a focus on each individual's needs. In other words, give a fully customized learning experience.
We set out with a three-fold mission which holds to this day:
Help people achieve their most audacious life goals.
Nurture the ability to compete on the global stage.
Contribute to the mutual understanding of various cultures.
When Gaba first started, there were no Learning Studios and lessons were taught in public places such as libraries and cafes. In the year 2000, we opened our first studios to better ensure the quality of our service. Despite Japan's economic bubble having burst by this time, client demand grew swiftly.
Other notable years include 2005 with the opening of our first locations outside of the greater Tokyo area. In 2007, Gaba went public. Our continued success garnered the attention of several large Japanese companies including Nichii Gakkan. A large provider of medical services, they acquired Gaba in the autumn of 2011. Today there are 36 Learning Studios in each of Japan's four largest markets: Kanto, Kansai, and Chubu.
We can only achieve our goals with our greatest asset: quality instructors. Thus, Gaba measures its success by both the satisfaction of its clients and instructors.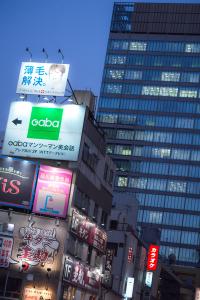 Company Timeline
2020
| | |
| --- | --- |
| January | Chiba Learning Studio renewal |
| February | Tsukuba NEXT Learning Studio renewal |
2019
January
Otemachi Learning Studio renewal
July
Kyoto-Ekimae NEXT Learning Studio relocated
August
Shinagawa Learning Studio renewal
September

Kichijoji Learning Studio relocated

Shimokitazawa Learning Studio relocated

October

Shinjuku West Learning Studio relocated

Funabashi NEXT Learning Studio renewal

November

Kinshicho Learning Studio relocated

Hiroshima NEXT Learning Studio relocated

December
Fujisawa Learning Studio relocated
2018
| | |
| --- | --- |
| April | "COCO Juku" restructuring, and rebranding of Sapporo, Sendai, Kyoto-Ekimae, Funabashi, Tsukuba, and Hiroshima locations to "Gaba Corporation NEXT Learning Studios" |
2017
| | |
| --- | --- |
| August | Yokohama Learning Studio relocated |
2016
| | |
| --- | --- |
| March | Hankyu Umeda Learning Studio opened (formerly Chayamachi Learning Studio) |
| October | Fukuoka-Tenjin Learning Studio opened (first Learning Studio in Kyushu) |
| December | Ichikawa Learning Studio opened |
2015
| | |
| --- | --- |
| April | Roppongi Learning Studio opened. |
| October | Kinshicho Learning Studio opened. |
| November | "and Gaba" concept store opened. |
2014
April

Shinjuku West Learning Studio opened

September

Musashi-Kosugi Learning Studio opened

Akasaka Learning Studio (formerly Akasaka-Tameike Learning Studio)
2013
| | |
| --- | --- |
| March | Tennoji Learning Studio opened |
| December | Ginza Learning Studio expanded |
2012
| | |
| --- | --- |
| January | Ikebukuro Learning Studio relocated |
| April | Omiya Learning Studio relocated |
| May | Ginza Learning Studio relocated |
| September | Kawasaki Learning Studio relocated |
| October | New Akihabara Learning Studio opened |
2011
January
New Nagoya Learning Studio opened
February
New Travel curriculum released
March
Namba Learning Studio opened (formerly Shinsaibashi LS)
May
Kashiwa Learning Studio opened
Yokohama Learning Studio relocated
October
Jiyugaoka Learning Studio relocated
2010
| | |
| --- | --- |
| May | Machida Learning Studio opened (formerly Shin-Yurigaoka Learning Studio) |
2009
January
Escrow of Advanced Payment introduced
April

Otemachi Learning Studio opened

Meguro Learning Studio relocated

September
Akabane Learning Studio opened
2008
January
Shinbashi-Shiodome Learning Studio relocated
February
Kawasaki Learning Studio opened
April

Shibuya Learning Studio relocated

Snapshots New curriculum released

June
Kitasenju Learning Studio relocated
October
Business Advantage curriculum released
2007
March
Hachioji Learning Studio opened
April

Kitasenju Learning Studio opened

Futakotamagawa Learning Studio relocated

August
Ebisu Learning Studio opened
November
Kyoto Learning Studio opened
2006
| | |
| --- | --- |
| April | Chayamachi Learning Studio opened |
| August | Omotesando Learning Studio relocated |
| September | New Shinjuku Learning Studio opened |
| October | Kobe Learning Studio opened |
2005
January
Umeda Learning Studio opened (first LS in Osaka)
February

Chiba Learning Studio opened

myGaba for Instructors released

March
Mobile access site for Instructors released
April
Sakae Learning Studio opened (first LS in Nagoya)
December
Yokohama Learning Studio relocated
2004
January
Fujisawa Learning Studio opened
February
Aobadai Learning Studio opened
April
Sangenjaya Learning Studio opened
May
Meguro Learning Studio opened
June

Shin-Yurigaoka Learning Studio opened

Mobile access site for Clients released

July
Career textbook series launched
October
Shinagawa Learning Studio opened
2003
January
Akasaka-Tameike and Shinbashi Learning Studios opened
February
Tokyo Learning Studio opened
March
Shimokitazawa Learning Studio opened
April
Omotesando Learning Studio opened
May
Futakotamagawa Learning Studio opened
June

myGaba for Clients released

Planet textbook series launched

Seijo Learning Studio opened

July
Roppongi Learning Studio opened
October

Akasaka Mitsuke and Tamachi Learning Studios opened

Online Evaluation System launched
2002
| | |
| --- | --- |
| February | Snapshot textbook series launched |
| June | Shinjuku East and West merged |
2001
| | |
| --- | --- |
| March | Shinjuku East and Ginza Learning Studios opened |
| April | Shinjuku West Learning Studio opened |
| October | Kichijoji Learning Studio opened |
| November | Ginza 1-chome Learning Studio opened |
2000
| | |
| --- | --- |
| March | Ikebukuro, Shibuya, Jiyugaoka and Yokohama "schools" opened |
1995